Crossware Enhances ColdFire Suite with Support for MCF5249 Audio Chip
Full support for Motorola's ColdFire MCF5249 Audio Microprocessor
Full simulation of enhanced multiply and accumulate unit
Code Creation Wizards to create programs in seconds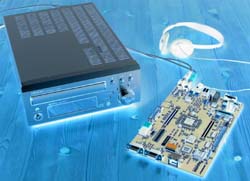 CAMBRIDGE, UK, January 8, 2003, - Crossware (www.crossware.com), a leading embedded software tools developer, has enhanced its ColdFire Development Suite by adding support for Motorola's ColdFire audio microprocessor, the MCF5249.
The MCF5249 is a high performance microprocessor with a rich set of on-chip peripherals. It can run with an on-chip clock rate of up to 140MHz and can perform a 32-bit multiply in a single cycle. This makes the chip ideal for computationally intensive applications. A sophisticated audio interface allows digital audio to be received, processed and transmitted in a variety of standard formats. IDE and FlashMedia interfaces allow the chip to be readily interfaced to hard drives or memory cards.
The Crossware environment allows the user to rapidly take advantage of the many features of the MCF5249. Access to the registers of the on-chip peripherals via a set of predefined structures allows the programmer to immediately start writing configuration code in C. The assembler supports the additional instructions of the enhanced multiply and accumulate unit (eMAC) and the simulator fully simulates this unit too.
In addition, Code Creation Wizards are provided which will create configuration code and also outline interrupt handlers with just a few clicks of the mouse. For example, the audio interface, cache and chip selects can be configured in seconds and outline interrupt handlers for any of the 32 possible audio interrupts can be automatically created. In addition a new compiler variable type has been introduced which allows the CPU registers, such as the cache control register and static RAM registers, to be programmed in C.
Code Creation Wizards were first introduced with the Crossware 8051 Development Suite to speed the development of programs for the Cygnal and Atmel 8051 derivatives. The benefits of these easy-to-use yet sophisticated graphical interfaces are now available to speed the development of MCF5249 programs too.
Crossware's ColdFire Development Suite supports the advanced MCF5407 chip as well as the series 2 and series 3 ColdFire cores, and allows developers to create, build and debug their ColdFire programs both with and without hardware. The totally integrated, user-friendly environment accelerates the development process and significantly reduces new product time-to-market.
About Crossware (www.crossware.com)
Crossware is a leading developer of programmer-friendly C/C++ cross compilers and other development tools for embedded systems based on the 8051, ColdFire, ARM, 68000, CPU32 and other chip families. Host environments include Windows 9x, Windows NT, Windows 2000, Windows XP, Windows Vista, Windows 7, Windows 8/8.1 and Windows 10. The company, founded by Alan Harry in 1984, is headquartered in the UK at Litlington on the outskirts of Cambridge. Crossware's products are used throughout the world by professional developers, educational establishments and hobbyists.