Crossware Enhances ColdFire Suite with support for Freescale MCF5207 and MCF5208 Chips
Full support for Freescale's ColdFire MCF5207 and MCF5208 Microprocessors
Fast track build and debug of Freescale's dBug ROM monitor firmware
Support for 64-bit integer arithmetic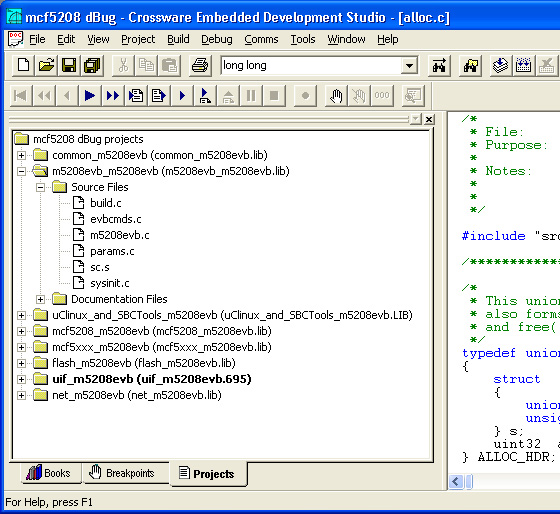 CAMBRIDGE, UK, March 2, 2006, - Crossware (www.crossware.com), a leading embedded software tools developer, has enhanced its ColdFire® Development Suite by adding support for Freescale Semiconductor's MCF5207 and MCF5208 ColdFire microprocessors. This support includes a utility that allows programmers to integrate Freescale's dBug ROM monitor software instantly into the Crossware development environment allowing developers to be debugging this firmware within minutes.
In addition, Crossware has added support for 64-bit integer arithmetic to its ColdFire C compiler as this is becoming an essential requirement for modern embedded systems. 64-bit integer arithmetic is used extensively, for instance, for checksum calculations in Freescale's compressed audio reference software.
The MCF5208 is a high speed microprocessor based on the V2 ColdFire Core. It includes a wide range of connectivity peripherals, an integrated DDR SDRAM memory controller and an enhanced multiply and accumulate unit (eMAC). Distributed clocking allows the on-chip modules to be separately enabled and disabled which, in conjunction with a low power clock divider, makes a low power implementation particularly practical.
Many developers wish to use Freescale's dBug ROM monitor software as a starting point for their own application. This is particularly easy with the lastest Crossware release because a new utility allows the complete dBug source tree and build settings to be imported, in a matter of seconds, into the Crossware graphical development environment. Developers can complete a build and download cycle within minutes of unzipping the Freescale files. Additionally Crossware's FireFly USB BDM (background debug mode) interface allows rapid download of the firmware into flash.
Crossware's ColdFire Development Suite allows developers to create, build and debug their ColdFire programs both with and without hardware. The totally integrated, user-friendly environment accelerates the development process and significantly reduces new product time-to-market.
About Crossware (www.crossware.com)
Crossware is a leading developer of programmer-friendly C/C++ cross compilers and other development tools for embedded systems based on the 8051, ColdFire, ARM, 68000, CPU32 and other chip families. Host environments include Windows 9x, Windows NT, Windows 2000, Windows XP, Windows Vista, Windows 7, Windows 8/8.1 and Windows 10. The company, founded by Alan Harry in 1984, is headquartered in the UK at Litlington on the outskirts of Cambridge. Crossware's products are used throughout the world by professional developers, educational establishments and hobbyists.