CROSSWARE RELEASES VERSION 4 OF EMBEDDED DEVELOPMENT STUDIO
Version 4.0 provides support for multiple projects
Support for browsing across an application and its complete set of libraries
Macro support for recording and playing back keystrokes and commands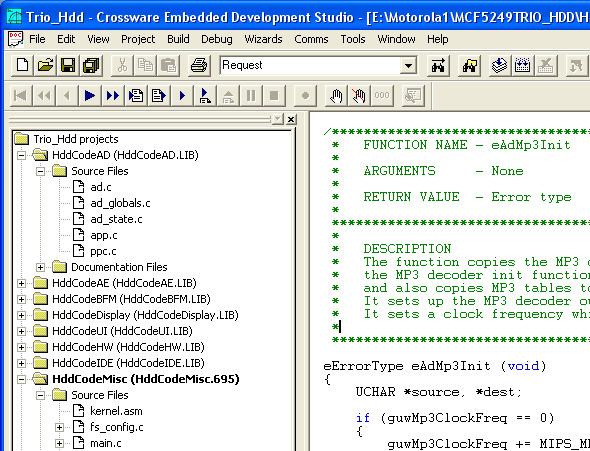 CAMBRIDGE, UK, June 25, 2004, - Crossware (www.crossware.com), a leading embedded software tools developer, has released version 4.0 of its Embedded Development Studio, a programmer friendly, Windows development environment which supports all of the microprocessor and microcontroller development tools from Crossware.
The Embedded Development Studio Version 4.0 has been enhanced to create a development environment that allows programmers to concentrate on the primary task of software development. A key feature of this new version is support for multiple projects. Programmers can load any number of projects into the environment at one time and rapidly switch between them or build them with a single command. This is particularly useful if an application and a set of libraries are being combined, if a bootloader and the application it loads are being simultaneously developed, or if several co-operating applications are being developed.
Version 4.0 also allows source level browsing information to be combined across any or all of the projects loaded into the environment. Therefore, if an application and a set of libraries are being developed, the programmer can easily find all of the references and definitions for C identifiers across the complete set of projects.
Another useful feature in this new release is the ability to record and playback keystrokes and commands. A repetitive editing sequence can be recorded and replayed any number of times. A 'repeat' feature is also available for the replay process and so the sequence can be replayed thousands of times with just a single command.
Crossware's Embedded Development Studio encourages a project management approach with wizards and property pages to help with the set-up process. It features a multi-threaded interface to multiple tool chains, an integrated feature rich text editor with full context colouring, multiple terminal emulators, a source code browser, dockable windows, complete on-line books with full text searching, and a unique configuration system to manage start-up files and target specific options.
The Embedded Development Studio supports all of the Windows tools from Crossware providing the flexibility, for example, to develop either a 32-bit ColdFire application or a simple assembler program for the 8051 microcontroller. The environment is completely self-configuring. It will pick the appropriate tool chain, link in the required simulator or debugger, offer the options needed and access the relevant on-line books in response to hot-key help.
About Crossware (www.crossware.com)
Crossware is a leading developer of programmer-friendly C/C++ cross compilers and other development tools for embedded systems based on the 8051, ColdFire, ARM, 68000, CPU32 and other chip families. Host environments include Windows 9x, Windows NT, Windows 2000, Windows XP, Windows Vista, Windows 7, Windows 8/8.1 and Windows 10. The company, founded by Alan Harry in 1984, is headquartered in the UK at Litlington on the outskirts of Cambridge. Crossware's products are used throughout the world by professional developers, educational establishments and hobbyists.