CROSSWARE ENHANCES COLDFIRE SUITE
WITH SUPPORT FOR MCF5282 MICROCONTROLLER
Full support for Motorola's ColdFire MCF5282 Microcontroller

Debugging Support for Single Chip and Master Modes

Code Creation Wizards to configure CAN and other peripherals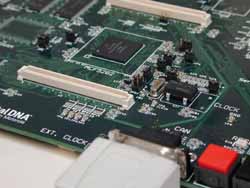 CAMBRIDGE, UK, September 4, 2003, Crossware (www.crossware.com), a leading embedded software tools developer, has enhanced its ColdFire Development Suite by adding support for Motorola's ColdFire MCF5282 microcontroller.
The MCF5282 is the first microcontroller based on Motorola's 32-bit ColdFire core. It features 512-Kbyte of on-chip flash, 64-Kbyte of on-chip static RAM and a rich set of on-chip peripherals including CAN and Ethernet controllers.
Crossware's ColdFire Development Suite enables the chip to run in conventional master mode accessing external flash and DRAM and it will also operate in single-chip mode booting and running from internal memory.
The Crossware environment allows the user to rapidly take advantage of the many features of the MCF5282. Access to the registers of the on-chip peripherals via a set of predefined structures allows the programmer to immediately start writing configuration code in C. The assembler supports the additional instructions added to the MCF5282 instruction set - and the simulator fully simulates these too.
In addition, Code Creation Wizards are provided which will create configuration code and also outline interrupt handlers with just a few clicks of the mouse. For example, the CAN controller, oscillator, cache and chip selects can be configured in seconds and outline interrupt handlers for the CAN controller can be created automatically.
Code Creation Wizards were first introduced to Crossware's ColdFire tools to speed the development of programs for Motorola's MCF5249 audio microprocessor. The addition of a Code Creation Wizard for the MCF5282's CAN controller is particularly useful as it simplifies what is traditionally a time-consuming and error-prone process when programmed by hand.
Crossware's ColdFire Development Suite supports the advanced MCF5407 chip as well as the series 2 and series 3 ColdFire cores, and allows developers to create, build and debug their ColdFire programs both with and without hardware. The totally integrated, user-friendly environment accelerates the development process and significantly reduces new product time-to-market.
About Crossware (www.crossware.com)
Crossware is a leading developer of programmer-friendly C cross compilers and other development tools for embedded systems based on the 8051, ColdFire, 68000, CPU32 and other chip families. Host environments include Windows 9x, Windows NT, Windows 2000 and Windows XP. The company, founded by Alan Harry in 1984, is headquartered in the UK at Litlington on the outskirts of Cambridge. Crossware's products are used throughout the world by professional developers, educational establishments and hobbyists.
---
|Home|Where to buy|Request further information|
---
Crossware Products
Old Post House, Silver Street,
Litlington, Royston, Herts,
SG8 0QE, United Kingdom
Tel: + 44 (0) 1763 853500,
Fax: + 44 (0) 1763 853330


Copyright © 2003 Crossware Products. All rights reserved. Revised: 8 January, 2003.
CROSSWARE® is a registered trademark of Crossware Associates.