CROSSWARE EXTENDS SUPPORT FOR ATMEL FLASH
MICROCONTROLLERS WITH CODE CREATION WIZARDS
Code Creation Wizards enable developers to create programs in seconds

Evaluation board functions as in-circuit debugger

Totally integrated environment to build, simulate and debug embedded C and assembler programs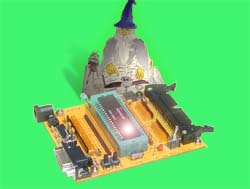 CAMBRIDGE, UK, May 28, 2002, Crossware (www.crossware.com), a leading embedded software tools developer, has added Code Creation Wizards to its 8051 Development Suite to support the T89C51RD2 and T89C51AC2 flash microcontrollers from Atmel. This added functionality will enable complete programs to be developed in seconds using Crossware's integrated environment.
The Code Creation Wizards will generate code for all of the on-chip peripherals of these Atmel chips including a programmable counter array, an A/D converter, three timers, a UART and a hardware watchdog timer. The Wizards will also generate code to configure external memory and will produce interrupt handlers too.
Crossware's environment will also simulate all of the on-chip peripherals allowing programs to be run without any hardware. However, Crossware also supplies a target evaluation board from Sample Electronics, its partner in Korea. This board has been designed to take full advantage of the In-System Programming capability of the Atmel chips and allows developers to rapidly install Crossware's serial port debug monitor on the microcontroller. This then works in conjunction with the Crossware environment to provide full source level debugging facilities, and, with the addition of a simple header cable, the board will function as a powerful in-circuit debugger.
The Code Creation Wizards also understand the requirements of the debug monitor. They are capable of setting up the UART and generating a complete set of serial port I/O handlers with just a few mouse clicks from the user. When the Wizards create this code, they produce two sets of functions - one that uses the hooks provided by the debug monitor and another that works with a stand-alone system. Features in the Crossware environment will automatically select which set of functions is included in the program, eliminating any need for user intervention.
The Crossware 8051 Development Suite - featuring Code Creation Wizards, advanced ANSI C compiler, relocatable assembler, a simulator that can be extended to simulate a complete target system and hardware debugging support - comes complete with Crossware's Embedded Development Studio. Seamlessly integrated and easy to use, this total environment makes embedded software programming fast, simple and intuitive.
About Crossware (www.crossware.com)
Crossware is a leading developer of programmer-friendly C cross compilers and other development tools for embedded systems based on the 8051, ColdFire, 68000, CPU32 and other chip families. Host environments include Windows 9x, Windows 2000 and Windows NT. The company, founded by Alan Harry in 1984, is headquartered in the UK at Litlington on the outskirts of Cambridge. Crossware's products are used throughout the world by professional developers, educational establishments and hobbyists.
---
|Home|Where to buy|Request further information|
---
Crossware Products
Old Post House, Silver Street,
Litlington, Royston, Herts,
SG8 0QE, United Kingdom
Tel: + 44 (0) 1763 853500,
Fax: + 44 (0) 1763 853330


Copyright © 2002 Crossware Products. All rights reserved. Revised: 19 February, 2002.
CROSSWARE® is a registered trademark of Crossware Associates.