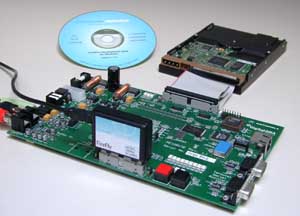 An M5249C3 Evaluation Board driven by a FireFly USB BDM Interface and connected to a Hard Drive.
The latest version of the Crossware ColdFire Development Suite is able to build the Trio MP3 application software developed by Freescale Semiconductor for use by its ColdFire customers.
Based on the Flex real time operating system, the Trio MP3 application runs on the ColdFire MCF5249 and SCF5250 microprocessors. It includes not only an MP3 decoder and encoder but decoders for Microsoft Windows Media Audio (WMA), Advanced Audio Coding (AAC), Ogg Vorbis and other format files. These files can optionally reside on a hard drive, CD drive or SD card.
Freescale supplies its Trio MP3 application as source code and a set of precompiled libraries. A set of 'makefiles' is also supplied which are used to control the compiler, assembler and linker during the build process. However, an enhancement to the Crossware Embedded Development Studio enables these 'makefiles' to be used to automatically create the files necessary for the application to be built from within Crossware's user friendly GUI development environment. The Getting Started Flash Video illustrates this process.
Use these links to navigate to the relevant web pages:
Getting Started Guide (Flash video)
15 day ColdFire Development Suite download
Freescale TRIO Software download
Freescale SCF5250 News Release
More about Ogg Vorbis
Note that you will need permission from Freescale to download the TRIO applications.
Copyright © 2005 Crossware Products. All rights reserved.